Do you know what that is?
Yes, yes, our messy, neglected winter backyard that hints of spring what with the plants, sneakers, toys and gardening paraphenalia lying around. But it's starting to get covered in snow – like real live snow that won't melt in five minutes.
Why?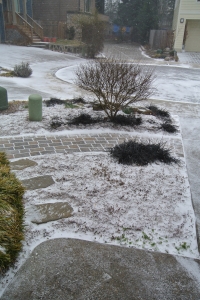 We're having our first official Portland snow storm since we moved here! Woo hoo!
And by snowstorm, I mean: people are freaking out because we're expected to get 1 – 2 inches of laying snow.
(Go ahead and chuckle, East Coast friends. Kenny and I did.)
In any case, I am excited because my kids haven't played in snow outside the house since we lived back East.
Ok, yes. There was one time in March 2012 when we woke up to some accumulated wet snow. But that was a fluke. This time – it's "breaking weather news" snow and the kids are coming home from school two hours early.
I don't know East Coasters, maybe my accounts of a Portland snow storm will make you chuckle / keep your spirits high as you continue to dig out from under the recent round of ice and snow? I'm guessing probably not due to how weather weary you likely are at this point. 🙂 More to follow anyway – hahaha.