Oregon breeds sneaker-heads. (Or maybe it's just me. I am attracted to them and then I breed them? I don't know. I'll blame Oregon for now until we see how Grace nets out. So far, her interest in sneakers is not even on the radar compared to her interest in shoes with glitter on them.)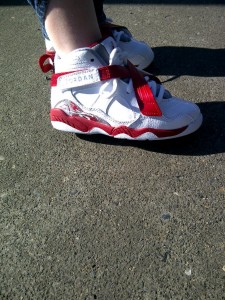 So, Gavin's latest thing is getting pairs of sneakers to match his friends at school. Over Christmas, he picked himself out some "Justins"; two weekends ago, he picked himself out some "Charlies".
Yes – that's how he refers to them. As in "Dad, I want to wear my Justins today." or "How about these jeans? They'll look super cool with my Charlies."
After picking out his Charlies – which happen to be his first pair of Jordans – he and I headed back to the car to hang out while the rest of our shopping party finished up in the store. Gavin asked if he could test out his new shoes.
While I was putting them on, I asked him if he knew what kind of shoes they were.
Gavin: "Yep! They are Charlies. But I got the big guy ones because mine have straps. Charlie's don't."
Me: "Yep, they are like Charlie's. But a guy named Michael Jordan helped make them." (Sure, a little white lie. I am guessing the big guy had little to no involvement in stylin' these youth kicks. Maybe he did. I am not up to speed on my Jordan facts – keep reading.)
Gavin: "Who's Michael Jordan?"
Me: "He was a super awesome basketball player that could jump SOOOOO HIGH that he could slam the basketball through the net while he was way up in the air and then hang from the rim. He is like the best basketball player ever." (Ok. This is probably the poorest description of Jordan's talent ever written. But I had to make it understandable for a five-year-old. Ok, ok. I probably couldn't really do a better job if I wasn't  explaining it to a five-year-old unless I did some research.)
Gavin: "Hmm. So, these shoes will make me run faster?"
Me: "Probably."
Gavin: "Jump higher? Like the super highest?"
Me: "Definitely. You just have to practice."
He skittered off and practiced some running and jumping. (See what I did right there? Tiring him right out. Hahaha.) He came back after a few minutes.
Gavin: "Hey, mom. Do you think Charlie is going to be so happy we have the same shoes?"
Me: "Yes. He totally will be so happy."
Gavin: "Do you think Michael Jordan will be surprised if he sees me wearing these shoes?"
Me: "Definitely." But he won't be nearly as surprised as we will be if we ever run into him. Haha.
A sneaker-head is born.