…holds a lot of memories.
I am doing some cleaning up and cleaning out around the house. Admit it. You're jealous of my rockin' start to the unofficial kick off to summer, right? 🙂
With both kids occupied downstairs, I took the opportunity late this afternoon to sneakily clean out the 'stuffed animal' farm we have in our toy room. If you have kids and they are anything like mine, you know why I had to be sneaky:
a) if they saw me doing this activity, they would fall in love with every single stuffed animal that was stashed in there. It wouldn't matter that they may not have played with it for over a year…or more!
b) if they knew I did this, they would want to pillage the giveaway box and save practically every last item. And, naturally, they'd only play with said items for about a day or so, and we'd be right back in the same predicament of being overrun with  stuffed animals come Monday.
When we're looking to donate toys, I typically let them decide which toys are ready for a new home, and which toys they'd like to keep. When it comes to stuffed animals, they – especially Grace – tend to love them all and, because of that love, we'd never be able to share any with children in need. Every so often, I like to clean house – typically around birthdays and Christmas.
I understand why it's hard for them to part with their things, even if they've long since outgrown them. I can be quite sentimental, and it's usually strange things that set this off. I find it funny that sometimes their old toys do this. I can usually recall a great memory involving an item or a toy, and then I, too, am hesitant to pass it along to someone in need. Kenny loves this. So much. 😉
Today, this guy made me sentimental.
 My mom and dad sent Gavin this little red monkey for Valentine's Day right after we moved to Portland. (Grace got a pink one.) For Gavin, though, it came at a perfect time – we moved at the end of October, spent three weeks back in Philadelphia for the holidays that year, and then headed back to Portland in early January. It really wasn't until January that the move felt real, and for sure, by February, it hit most of us that we actually lived in Portland now. 2,865 miles from everyone we loved in the world (except for each other).
Gavin had a bit of a tricky transition when we left Philadelphia, At four going on five when we moved, he was more aware of things than Grace, and his old soul, at times, seemed to understand how big of a deal it was to move away from our entire family. He's not a guy for change – he likes routine and likes things how he wants them. Despite starting school (child care at Nike) in October, he was still crying most days when Kenny dropped him off in February. It was really pretty sad. He was definitely less of a disaster than when we first moved, but still had moments where Kenny and I would worry that we made a terribly wrong move and he'd never adjust to the change.
But along came this monkey, with a note from my parents sending hugs and kisses for Valentine's Day. I can still picture Gavin's face when he opened it. His grin grew wider when I showed him he could velcro the monkey around his neck like a hug. (Don't panic, don't panic – it was loose and the velcro did not securely fasten by any stretch – really just enough for a brief 'hug' before it unfastened and monkey hopped back down into Gavin's arms.) Monkey went to bed with Gavin that night. And to school the next day. And to the dinner table that night. And sat on the side of the tub while he bathed that evening. And, so, an inseparable friendship of sorts budded.
Gavin and Monkey.
Monkey and Gavin.
Everywhere. Together.
For months and months.
And as this friendship budded, Gavin seemed to gain more confidence in his new surroundings. It was like a Philadelphia / familiar things / familiar people security blanket, and Monkey arrived at the very moment he was needed.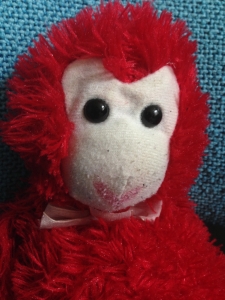 You can see how loved Monkey was.
His fur is matted.
His face pilled.
He is missing his nose.
His threaded mouth unfurled, so we drew him a new one.
These days, Monkey hangs out in our stuffed animal farm along with some of his new friends.
Gavin wandered into my office after Monkey's blog photo shoot. He smirked when he saw him, then picked him up. He stared at him for a few minutes as his fingers traveled over the matted fur of his arms down to his dirty white felt hands. Gavin's neck was too big for a Monkey hug.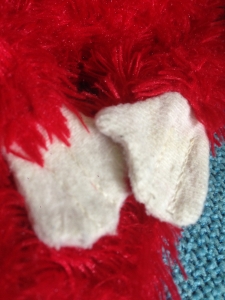 He asked, "Mom, do you remember him?" I told him I did. Secretly hoping the answer would be no, I asked him if he wanted to give him away to another little boy or girl who might need him. Gavin looked at Monkey, then at me. He shook his no and said, "No. I want to keep him." I asked why. He said, "Because I got him when I was like four and I want to remember that time." Man, I love that little guy. Pass a tissue.
I am not sure I will ever be able to put Monkey in the giveaway pile. Not any time soon, anyway.
He's symbolic of our move, and a sweet reminder of the time period during which Gavin finally started to come into his own as a Portlander.