We are home after an awesome few days in California.
LegoLand was fun.
Disneyland was fun.
And I have a whole new appreciation for Southwest Airlines. They're a great brand, and it shows through in all the little things they do for their customers:
1) They held our connecting flight so we could get home on the day that we scheduled! Our flight home was delayed, and we were nervous we would be stuck in Disneyland. Ok, Kenny was nervous we'd be stuck in Disneyland. I wasn't. I would've been happy for an extra night despite the awkward conversation I'd have to have with my boss to tell her I had, yet again, gotten stuck on vacation. (This very same thing happened to us in August on a different airline!). We were reassured that we wouldn't miss our connecting flight and that they'd hold the flight for us because it was the last one to Portland for the day. And they did! They even held four seats together in the back of the plane so that we weren't separated. This was such a nice thing, especially because the kids are still so young. The flight attendants fawned over our two very tired kids, and made sure they had everything they needed for a comfortable flight.
The tricky thing with this delay was that we paid for Early Bird boarding, and we didn't get to use it for the second leg of the flight. I called Southwest to see how that worked and spoke with Andrew, who was literally the nicest customer relations representative ever. He was sympathetic to our story and asked great questions. He was able to help us out with the Early Bird boarding thing, and the fact that he laughed at my jokes made the experience that much better – hahaha. (Apparently, I am all about throwing money at Early Bird boarding and not getting to use it. Haha.)
Ultimately, sure, we sat around a lot due to the uncertainty of the flight, Kenny had a baby bird because of the potential to miss another day of work, and we got home about 2 and a half hours later than planned…but everyone at Southwest was very nice about it all – pleasant, helpful, reassuring from the time the flight was delayed early in the day all the way through my call to them today. Exactly what you want when you're facing tricky travel situations and your personal stress levels are high.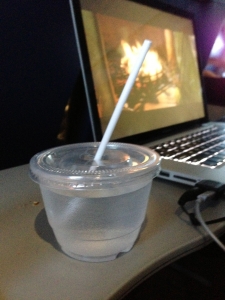 2) They recognize children as independent travelers. I know this is a small thing, but they serve the kids drinks with lids and straws. Total bonus for parents. I have a hard enough time not spilling my own drink on the plane (or anywhere, really), let alone managing the kids' drinks. This is such an easy thing, but pure genius. I am tickled by this level of attention to detail – for me, it's one of the little things that make good brands great – like Southwest.
3) Their flight attendants are light-hearted and go 'off script'. This is now the third Southwest flight I have been on where the flight attendant in charge of announcements personalizes his or her remarks – and makes a joke "I'm sure none of you care what I am saying because you will all likely be asleep in 10 minutes, but listen carefully just in case.", applauds the travelers because our destination is their hometown and they are getting a chance to go their because we bought Southwest tickets or leads the cabin in a series of "Go Ducks!" cheers following a bowl game win. This stuff sets a nice tone for the flight.
I also love their in-flight magazine. It's really well done. Sharp graphics, good writing, interesting content. This time around, I enjoyed this story – Not So Fast – about taking up 'slowness' for a month. (If you are a parent – especially a working parent – read it, it's interesting.) We're becoming fast fans of Southwest Airlines!
I'll share more about LegoLand and Disneyland – stay tuned – but the quick word is we'd go back, for sure!