Ta da! Master bedroom. Another wall done…for now. Haha. I only say that because of my fickle design preferences – I am sure I will tire of the color scheme / layout at some point. 🙂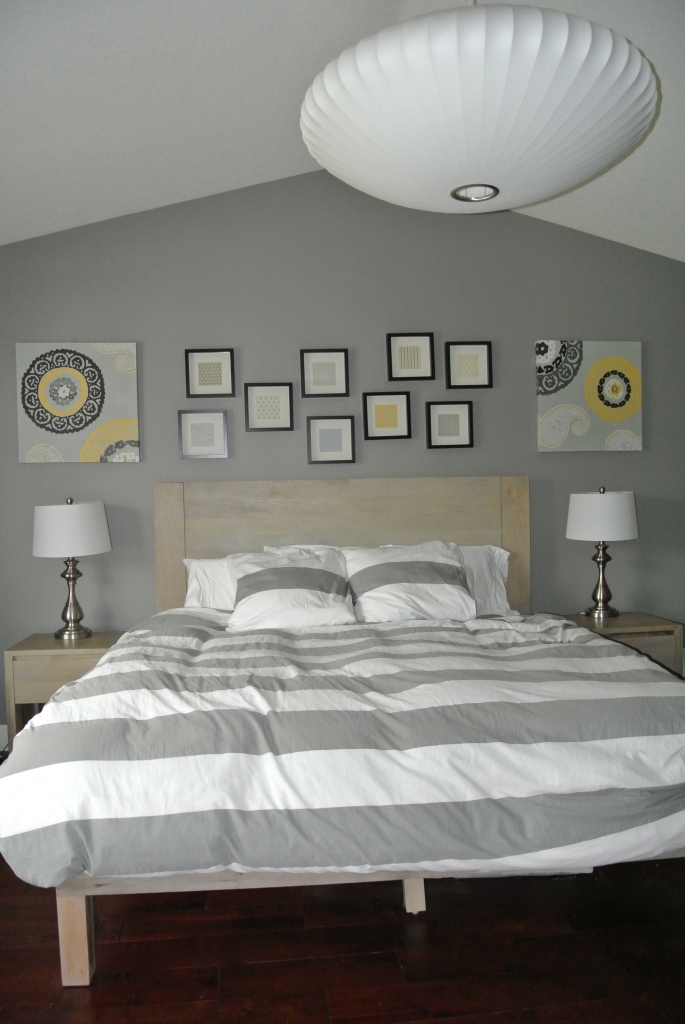 I made the art above the bed. Black / white / gray / yellow scrapbook paper in different designs. Frames from IKEA.  In my head, it was a grid layout, but that was tedious and completely at odds with my immediate gratification gene. I quickly switched to "whatever".  Those frames were going to be the extent of it, but we saw the canvases at HomeGoods on Sunday and scooped them up. I was a little nervous that they'd be too big. Kenny wasn't completely sold on them. We figured we'd just pick them up and return them if it didn't look right. But, I have to say, I really kind of dig how it came together. It's interesting, and there are some small spaces for future additions. . It looks really sharp in person.
Grace, who is pretty much convinced she's Princess Sofia's long lost twin sister, came into the room, twirled and told me my walls look "so beautiful" and punctuated that with three claps and another twirl. So if a four-year-old's design sense counts for anything in this world, this wall works. Hahaha.
Mission Fill the Walls / Act Like We Really Live Here Update: