In this post, I referenced a few projects I tackled while Kenny was away on a two-week business trip in April. One of my favorite things I got done was revamping Grace's wall art above her bed. Let me tell you the backstory before I do the "big reveal" of how it looks now. Grab some popcorn, it's gonna be good. (Don't really. It's actually kind of snoozy. Or maybe do…and the munching of the popcorn will help keep you awake / interested.)
Way back in August 2012, Grace still had a very blank canvas surrounding her bed. It made the room feel a bit stark and not well-loved or well-lived-in. Other than her clothes and toys strewn about…it was kinda clinical. (BTW – what is up with clothes strewn everywhere already? I don't recall tormenting my parents with that until at least the tween years. Ugh.) I found these super cute, non-branded princess and fairy wall decals, and we decided to give them a go.
Unfortunately, it didn't come together like I imagined in my head. It was fine, I just didn't get my heart aflutter every time I looked at it. Plus, the walls are textured, so the larger decals didn't really stick after a few weeks. Boo. Nevertheless, we left it up there for a solid eight months, hoping we'd like it more and things would stay stuck. Neither happened. Haha.
While that "disaster" was gracing Grace's room (ha!), my mind was at work on what we could do instead. I wanted something age appropriate…and fun…and cool…and that she would love. It also had to be easily changed to meet her whims…knowing that as she grows older, she'll (likely!) outgrow princesses and move on to other things (like what, I don't know. Peace signs? Animals? Geometric prints? Animal print? Covers of teeny-bopper magazines with yet-to-be-known young stars and starlets? Speaking of that, is Tiger Beat still published? haha.)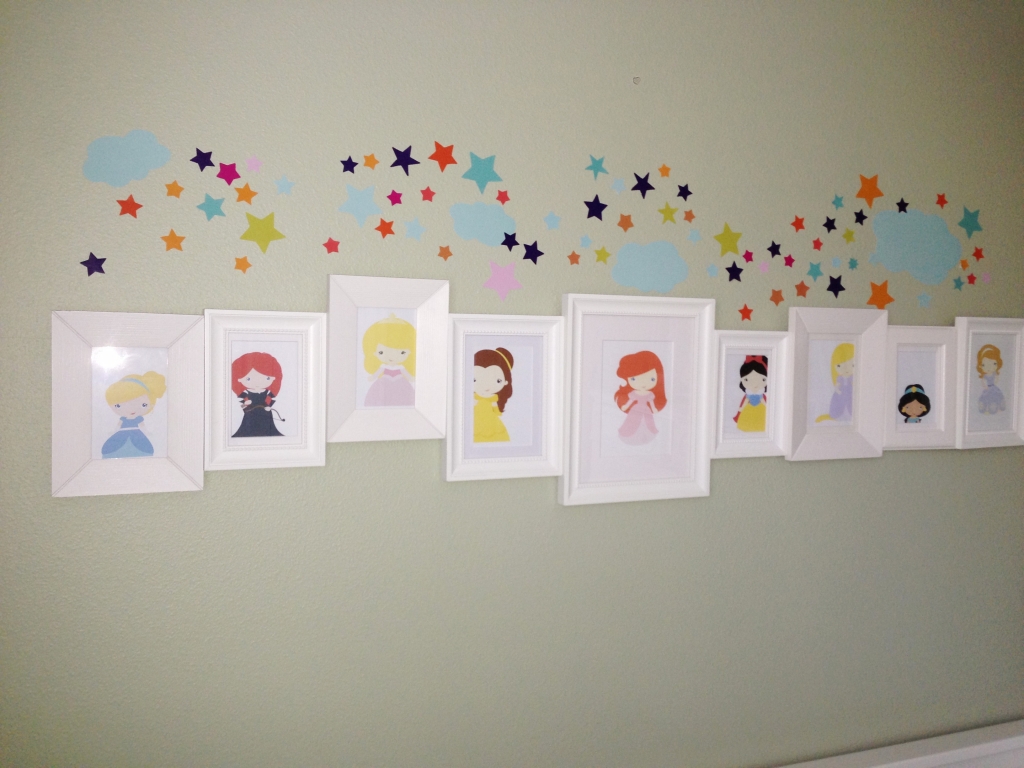 Lately, I've been finding linear gallery walls with different frames really sharp. So, I thought this could be a great option for the space above Grace's bed. I have an inner artist dying to get out and make her mark on the world (as I previously mentioned here), so I decided that instead of buying prints or art work, I would make contents for the frames. After consulting with Grace, we decided that princesses, as a theme, were the best choice.
I didn't really want to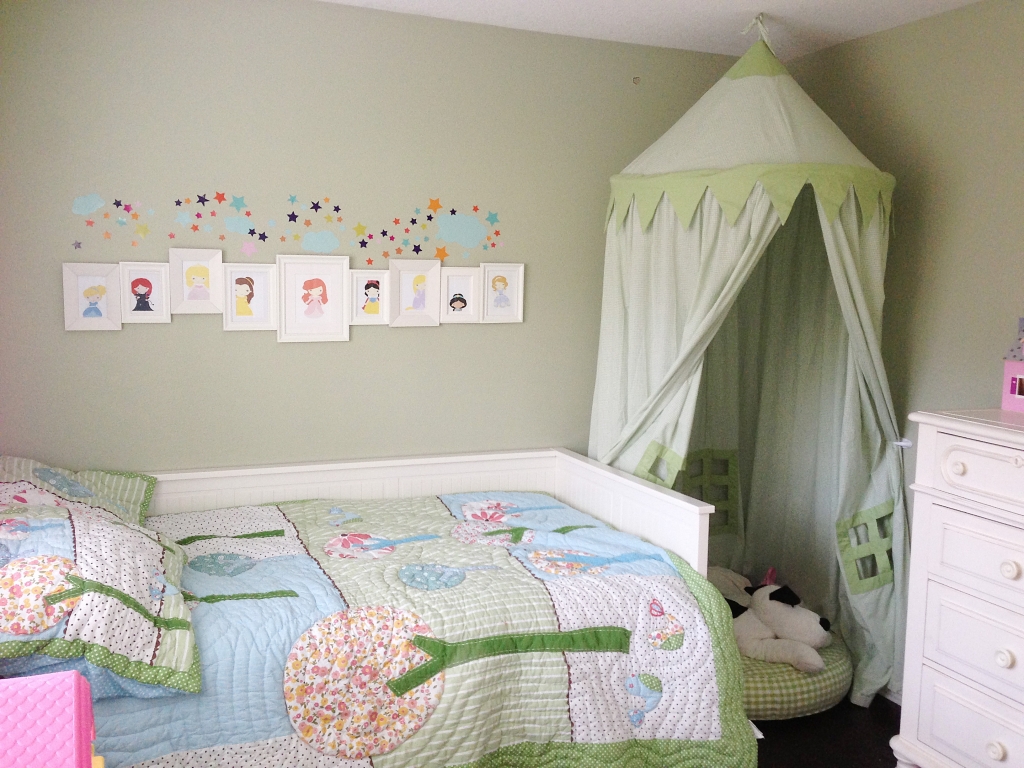 do traditional Disney princesses images. I wanted something a little more art-y and modern and fun. I found some awesome art files that fit the bill. I placed these at various off-center points on card stock so they were 'cropped' to sit at different angles / perspectives in the frames. I thought this would mix it up a bit and add visual interest to the gallery, instead of just having a row of straight princess images. It worked! I love them. And (maybe) more importantly – so does Grace. She gasped when I showed her. Then squealed. Then clapped while jumping up and down. Ah, she's so girly – hahaha!
Mission Fill the Walls / Act Like We Really Live Here Update: