Come on, you had to know I'd pick gray. Haha.
You might remember that I am on a mission this year is to get my house done. Finally finish unpacking. Art on the walls. Giving everything a place / keeping ourselves organized. Wrapping up a handful of house projects we have on our list.
One of the projects we had on our list was painting our "family room". (It's really not a family room. It's a bedroom that we use as a family room. But really, I guess it's our house so we can make it what we'd like. 🙂 ) It had previously been used as a girls' room and was painted pink. Perfect for a girls' room. Not so perfect for a family room. Well, maybe to Grace it was – haha.
I was apparently feeling pretty ambitious while Kenny was away on a nine-day business trip in the middle of February, and texted my neighbor on the Monday after he left to see if she had any recommendations for a painter. In our old house, painting this room is something Kenny and I would have tackled ourselves, but as I covered here, we are over the DIY stage of our lives. Haha. We put a lot of work and TLC into our first home and now, we're quite content to save up some nickels and pay a professional to do stuff for us.
Hilariously – I timed my recommendation request perfectly. She actually had a painter coming to their house that very morning and said she'd just bring him by when he was done. And she did. And he was super nice. And responsive. I had a quote within 24-hours. I checked with Kenny to make sure he was cool with this whole scene. He was, so I booked it. And had my room painted the very next Monday and Tuesday. (To put the length of Kenny's business trip in perspective, he didn't see it until that Wednesday. Yes, that's right – I had the job quoted, painted, complete and the room re-furnished during the length of one business trip.)
Old color:
New color:
So from a soft pink to a soft silver-y gray. (I really love this color – it's Martha Stewart's Sharkey Gray.)
Since that project went well, I decided to make getting house projects done a way to keep myself occupied when Kenny travels. Haha! What can I say – I hate to be bored. Kenny really doesn't like doing house projects, so this new plan saves him some grief, too. That said, his recent two-week stint in the UK provided the perfect opportunity to pull more elements of this room together and bring it closer to being complete.
After dropping Kenny off at the airport, three Sundays ago, we headed over to IKEA and HomeGoods. We made out great at IKEA – and I got some frames to finish my project in Grace's room. More on that later. We made out great at HomeGoods, too. We'd been struggling with what to hang over our couch – it's a big couch and a big empty blank wall.
Therefore, I felt like we needed something big over the couch to make a statement. Luckily, HomeGoods had the answer (it always seems to!) and I scored two metal wall panels that fit perfectly. I originally put them back, but then second-guessed my change of heart and scooped them up. Glad I did! (Don't miss Grace on the couch – she's super happy to be in this picture.) I also grabbed the pillows she's laying on. 🙂 Those panels were a beast to hang by myself. But, I am proud that I got them almost perfect!
Before Kenny left on his trip, we decided to do a FLOR rug in this room. We had FLOR tiles in the kids' nursery back East, and were really happy with the look and care, so we thought they'd be a good fit for the family room where there'd be heavy kid foot traffic. Plus we had a coupon and who doesn't love saving money?!
I sketched out my "design" and measured at some point during the week. Then, with sketch in hand and room picture on the iPhone, the kids and I embarked on a trip to the FLOR store in downtown Portland two Saturdays ago, and spent an hour or so picking out rug textures and colors. I'll be honest – they played iPad games while I picked out textures and colors. Haha.
I ended up with the top two gray tones and got them cut on the diagonal so we could do a chevron pattern. The rug pieces came today – they really make it easy for you to set it up!
So, I got to work. It took me a grand total of 22 minutes to open the boxes, lay it all out and vacuum. I didn't do the adhesive sticker spots yet – I figured I should make sure Kenny's cool with how it looks. Hahaha.
And here it is! The almost finished room.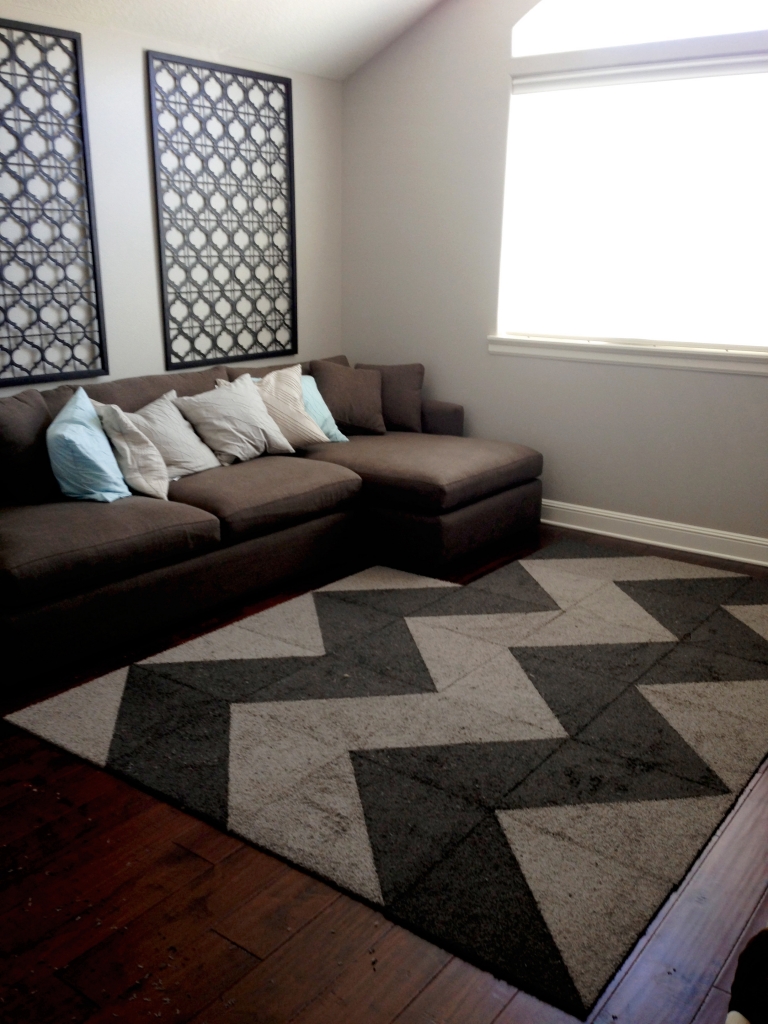 I still have some stuff I want to do with the TV area. I have a very heavy mirror that I also got at HomeGoods – it will look sharp over the TV or on the left wall when you first enter the room. I am also thinking that some large canvases  of kid pictures or maybe instagram-esque collages would really round out the room and look great flanking the window. Finally, to give it a home-y feel for the kids, I want to do something where I can hang some of their art projects. So…I guess you'll be seeing more of this room in the future as I finish it off. 🙂
It's almost starting to feel like we actually live in this house – haha! Here's a list of all the house projects we've tackled so far this year: