Some of my favorite things in life at the moment are my kids' art projects.
Listen, I know I am not raising Van Gogh or O'Keefe here. And I know their art projects are presh probably really only to me… and maybe Kenny. (Haha.)
But Grace is hilarious with her art and I have to share. She vacillates wildly – like sometimes I am not sure if I should be worried or simply chalk it up to her being a free-spirited creative soul.
Let me give you some examples by way of two recent Graces:
Exhibit A: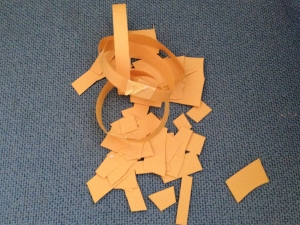 This one makes me raise an eyebrow. I mean she's heading into Kindergarten next year. And the art work she brings home often consists of tiny snips of paper or rolled up pieces of tape that Kenny somehow carries out of school, into the car, drives home and then brings into the house. I don't know how there are not less little snips of yellow paper – it seems like it would travel like confetti if not contained somehow!
Mostly, I find this hilarious. She is SO proud of these snips. You'll notice that she also made some bracelets for me. She wants me to wear them while I cook. (As if I need more distractions while I am doing that – hahaha.)
Exhibit B
Hey, look, it's us! In crayon. I love this one for so many reasons. I have green eyes. So does Gavin. Grace has her blue. Kenny, has…well, orange. But they match his outfit. And for those of you who know Kenny know he likes to match his accessories to his duds. In this rendition, that includes eyes. What I like most about Kenny, however, is that he has his mohawk. My dress (!) is plain. Grace's dress is fancy. I also like that somehow I am smaller than the rest of the family, when in real life, that's not really true. Although, apparently both Gavin and Kenny are rockin' some solid arm muscles.  My favorite part of all, however, is that Grace is the biggest. Combined with her sass as of late, it's clear she thinks she's the head of the household.